Date: Thursday, May 12th, 2022
Source: Bloomberg
A global shipping industry that's experiencing the strongest and most turbulent market in memory faces a potential slowdown later this year.
That was among the messages from Hamburg-based Hapag-Lloyd, Germany's largest container carrier. Early Thursday, it reported surging revenue and profit in the first quarter on transport volumes that were little changed from a year earlier, confirming guidance laid out April 28.
"The year has got off to an exceptionally strong start on the whole, and whilst there have been first signs that the market has passed its peak we also expect a strong second quarter," CEO Rolf Habben Jansen said in a press release.
Global supply chains "continue to be under significant pressure — not least because of the recent measures taken in China in response to Covid-19 outbreaks," the statement said. "This situation is expected to improve in the second half of the year."

In its quarterly financial report, Hapag-Lloyd said a weaker global economy and ongoing supply-chain disruptions will slow the industry's growth this year, citing a Seabury prediction that global container volume will rise 2.6% this year, compared with 6.6% last year.
"A recovery in supply chains will be further delayed as a result of Russia's attack on Ukraine and the tightening of Covid-19 restrictions in China," the report from the world's No. 5 carrier stated. The company's shares are hovering close to a record high set earlier this month.
To help preserve profitability and offset weaker demand, Hapag-Lloyd and other major carriers have collectively increased the number of canceled sailings on three major trade lanes over the past month. According to Xeneta, here's the breakdown:
Asia to the US West Coast had the most blanked sailings, with a total of 63 amounting to 25% of capacity
Asia to the US East Coast saw the fewest, with the equivalent of 10% of capacity eliminated
On the Asia to northern Europe lane, 13% of capacity was blanked, causing the largest drop in spot rates, Xeneta said.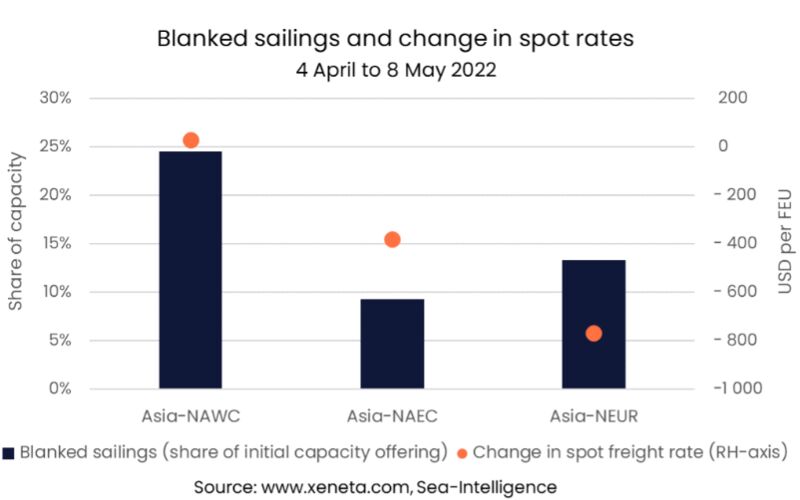 The major container lines blanked sailings aggressively in the early months of the pandemic in 2020, but when demand came roaring back stronger than expected in the US, freight rates soared and capacity stayed tight until early this year. Spot rates have since come well off their highs.
'Nasty Cocktail'
"Recent blank sailings are motivated by the twin threats of ongoing operational bottlenecks and declining demand as a result of China's lockdowns," Drewry analyst Simon Heaney said in an email. "It's a nasty cocktail for shippers, but judging by the gradual erosion of spot rates, it seems that the latter factor is having the bigger influence."
In a research note this week, Bloomberg Intelligence senior logistics analyst Lee Klaskow says ocean freight rates have retreated by 20% from their peak over the past 10 weeks on the heels of Covid-19 related lockdowns in China that have limited the flow of goods in and out of the country.
"This has weighed on demand, which is providing some relief to chokepoints along the supply chain," he wrote. "There will likely be a surge of freight flowing once China ends the lockdowns that we believe could boost demand for liner capacity and result in higher rates."